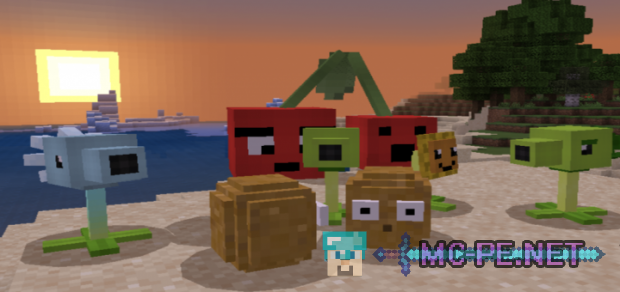 This addon will acquaint you with some of the friendly characters of plants that can be found in a series of games Plants vs. Zombies in your Minecraft worlds. This addon is designed to bring Botanical magic PvZ to Minecraft so to preserve the charm of vanilla.

In search of Crazy Dave's
First you need to find Crazy Dave's, which has the seeds of all plants. You have to turn zombies into Crazy Dave using Pot(crafting recipes, see the screenshots). Then create a collection of plants Pot o' Plants plant them and wait 100 seconds, then it will be Crazy Dave!

Crazy Dave
Crazy Dave will exchange the sun to plant seeds! However, it is vulnerable to zombie attacks, so try to protect it, otherwise you'll lose it. It can be easily moved using a Taco (more on that later). First, make sure that you are stocked with a sufficient number of sunflowers to get more sun! But where to get them?

Plantation
to start a plantation PvZ, you need to make a Garden Shovel. When you have a Garden Shovel, sneak and hold to dig a hole in the ground! You can use the seeds! The garden spade has an infinite durability, making it the best choice among gardeners TACOS! It is important to kill zombies and other monsters, using your PvZ-plants. 1 of 5 plants dead zombies will drop the TACOS! You can use explosive plants to increase this value to 1 in 4. Swap TACOS for the Sun in the menu of Crazy Dave to increase his level and unlock more plants! TACOS can also be used to get Crazy Dave from danger.

Plants
-Gorohostrel shells shoots peas at zombies in range.
-Sunflower, without a doubt, the most important plant. The Sun generates that can be used to create more plant seeds.
-Wallnut (walnut) - this plant is extremely useful as a protective plant, because naive zombies will continually eat it until his health. Use this in combination with Peashooters to kill the zombies on your lawn.
-Cherry bomb Fast way to get rid of the monsters. Mobs are attracted to its bright red color, and then boom! Zombie killed by the blast "Cherry bomb", are more likely to drop a Taco.
-Ice peas that slows down zombies and.
-Cartolina Mina undermines the zombies
-Double gorohostrel - shoots 2 peas at once!